Welcome to the We Are The World #WATWB Blogfest for February 2018.  Please visit our generous co-hosts.  They are Shilpa Garg, Peter Nena, Eric Lahti, Roshan Radhakrishnan and Inderpreet Kaur Uppal.
Alisha with her parents. Source: SBS news.
Due to a rare disease, little Alisha Kapoor needs a heart lung transplant. In the process her heart is healthy and she is willing to donate it to save another persons life. As SBS News reports
Alisha Kapoor knows little outside the walls of the Children's Hospital at Westmead, in Sydney's west. 
She turns five in a few weeks but has spent the majority of her life living at the hospital, away from her parents and two siblings in Blacktown, 13km away. 
"I think we have two houses, one here, and one there," her father Raj Kapoor told SBS News. 
"This is my second house. My wife, she stayed almost one and half years, or more, in the hospital, 24/7."
This is all because
Alisha has an incredibly rare genetic disorder; surfactant protein C deficiency, which affects less than 10 children in Australia. It means she struggles to breathe and is permanently on a ventilator.
But while Alisha needs a lung transplant, Dr Pandit says it is safer to transplant a new heart at the same time. 
"Technically it is very difficult for the cardiothoracic surgeons to separate the lungs from the heart," Dr Pandit said. "As a result, in her case, it will have to be the heart and lung together. Technically it is much better to do it as a block transplant, rather than separating just the lungs."
Here is the part that is so, literally, heart-warming
Among this comes a positive. While Alisha will become the youngest heart-lung transplant recipient in Australia, her heart is perfectly healthy. It means she can donate it, and save another young life in the process. 
"We feel very good [about it]," Mr Kapoor said.
"Someone will save my kid, and my kid will save someone else. Everyone should be a donor, it's a precious gift of life." 
Mr Kapoor is urging everyone to think about organ donation and the lives that could be saved.
It is touching to read that someone so needy is willing to give, to share, for the sake of another's life.  It reminds us of the inter-dependence of our lives.
The rest of the article and video can be found here.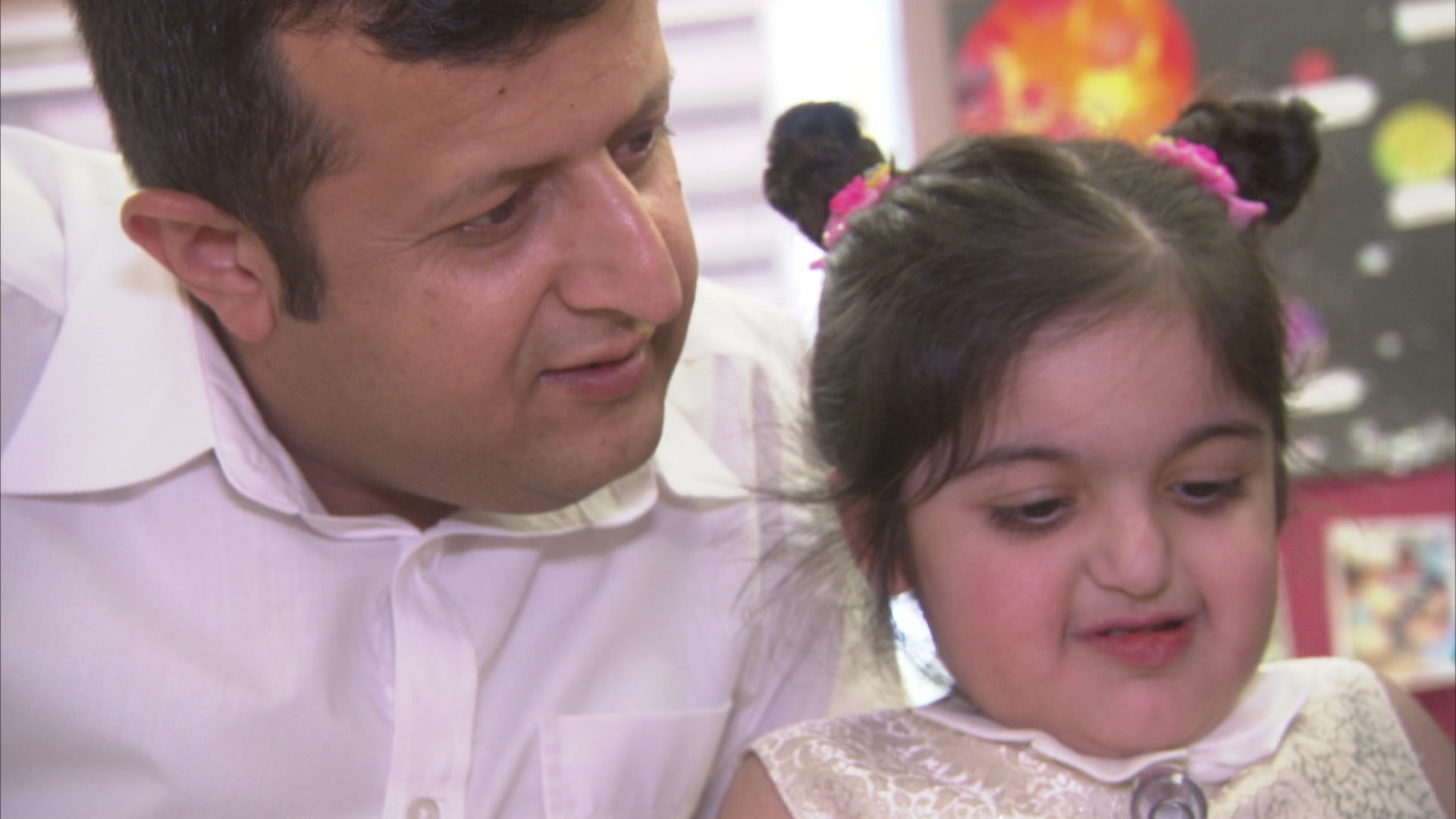 Alisha with her father. Source: SBS News.
Here are some verses to close a story on the kindness people show to one another.
     is all they ever wanted,
     the laughter of neighbors
     prospering in the blue light of summer.
      The generosity of others
     whose spirits, like their long-legged
     children blossoming into a progeny
     of orchards and fields, flourish.
---
Want to know more about this blogfest?  Read on.
Once again, here are the guidelines for #WATWB:
1. Keep your post to Below 500 words, as much as possible.
2. Link to a human news story on your blog, one that shows love, humanity, and brotherhood. Paste in an excerpt and tell us why it touched you. The Link is important, because it actually makes us look through news to find the positive ones to post.
3. No story is too big or small, as long as it Goes Beyond religion and politics, into the core of humanity.
4. Place the WE ARE THE WORLD badge or banner on your Post and your Sidebar. Some of you have already done so, this is just a gentle reminder for the others.
5. Help us spread the word on social media. Feel free to tweet, share using the #WATWB hastag to help us trend! 
Tweets, Facebook shares, Pins, Instagram, G+ shares using the #WATWB hashtag through the month most welcome. We'll try and follow and share all those who post on the #WATWB hashtag, and we encourage you to do the same.Just click Here to enter their link and join us! Bigger the #WATWB group each month, more the joy!